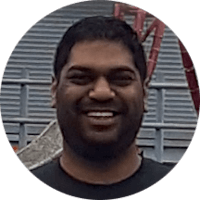 Hello and thanks for stopping by! My name is Asif Bacchus. I've been a futures and currency trader, an I.T. consultant, network engineer and freelance programmer for over a decade. Lately though, I've found myself merging all that together and turning my attention to automating and backtesting a bunch of trading indicators, tools, systems and strategies.
My focus is on simple, effective systems and indicators that provide clear and timely signals within market context -- allowing us, as traders, to make less stressful decisions about whether to take the trade. I've also developed a few drawing and trade management tools and improved on some common publicly available ones, making them more useful with clearer output.
Everything on this site has been used successfully in real trading and in realtime with real money. All the systems and indicators have a positive track record and all the settings are customizable and fully documented so you can tweak them and make them fit your trading goals and personality.
Several of the tools on this site are completely free and have publicly available source-code. I know how hard it is to find examples of properly coded actually useful trading indicators. I wanted to provide a few for fellow traders to study and maybe be inspired to create their own unique tools. The blog linked to this site is a side-project in the same vein -- I hope to provide programming tips specific to trading indicators and systems along with updates on how stuff available on this page performs over time in realtime.
I hope you find something here that helps you out, gives you some ideas, or maybe inspires you to work with me to develop an indicator or system that you've been thinking about for a while. I'm a real trader making stuff for other real traders -- I hope that's what you'll find on the rest of this site.
custom programming
I'm always looking for new indicators, drawing tools or strategies to include on this site! If there's something you'd like me to program and feature on this site as a FREE download for other users, please reach out and contact me. It doesn't have to be anything special, it could be anything:
a helpful feature or tweak to a popular indicator that makes it work better, look better or just makes it easier to interpret; or
a new twist on an existing indicator or maybe just a different way to calculate it; or
a particular drawing tool that you can't find anywhere but would make your trading analysis easier; or
anything else you can think of!
I'm especially interested if you think something in the programming of that indicator/tool would help others learn and expand their own programming abilities... or mine!
If you have an idea for an indicator or strategy that's more personal/proprietary but need someone to program it for you, or you're stuck on something specific trying to program it yourself, then also get in touch with me! I'd be happy to correspond with you over email or we can set up a phone call to discuss what you're looking for, whether it's possible and how much it would cost. My focus is on providing you what you need at a fair price but also with full support for as long as you need.
I look forward to hearing from you and helping you out -- even it's just providing stuff on this website!
contact me
Have any feedback, questions, comments or suggestions about this site or any of the content? Want more details on how the indicators or drawing tools are built, maybe to help you out with something you've been working on? Do you have suggestions for something you'd like me to try building or maybe you are interested in having a custom indicator or system built?
For any of these reasons, or just to say hi, feel free to click the link below and email me. I look forward to hearing from you!
email me